Elected officials visual identifier
This identifier is used by The City of Calgary Council, The City of Calgary Mayor's Office, The City of Calgary Integrity Commissioner, The City of Calgary Ethics Advisor, and The City of Calgary Auditor's Office.
File download is available upon request and requires approval from the Customer Service & Communications Advertising division manager. For more information, contact your communications representative.
Usage
The elected officials indentifier must be rendered at least 58px wide.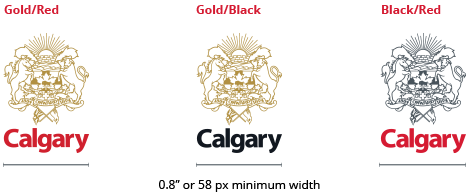 Colour variations
Full colour
The full colour variations are preferred.
Gold and red
Gold and black
Black and red
One colour red
The one colour red option is preferred when a single ink option is required. Use this only on a white background and for items with minimal copy (for example: urls, calls to actions).
One colour reverse
Use the one colour reverse option in one-colour jobs on full flood (non-white) backgrounds. This option is primarily used for swag items.
One colour black
Use the one colour black option when black ink is the only option (e.g. newspaper ads, forms). This may be used on coloured stock.